REDUCE YOUR TECHNOLOGY COSTS BY AS MUCH AS 43%!
That's the average savings accounting firms experience when they partner with ACT for Managed Technology and Security Services.
Scroll down to learn how we help accounting firms save money, decrease downtime, increase productivity, and secure their data.
Show Me How I Can Save Money
"*" indicates required fields

Managed Technology Services
ACT is your full-time, outsourced IT department, providing immediate remote and on-site support. Plans are affordable and scalable. Here's a taste of what you receive for one flat monthly fee:
24/7/365 monitoring
Quick response times
Proactive maintenance for all your software and operating systems
Automated data backup
Disaster recovery solutions
Regular reports and planning meetings
Expert network and system administration
Enhanced firewall and security management
Certified and expert technicians and engineers
Cloud implementation and support
Discounted pricing on hardware and software
Managed Security Services
Turn-key Managed Security Services include more than a dozen strategic cybersecurity services. We provide complete coverage for your business network, data, and peripherals.
Security Operations Center (SOC)
SIEM/SOAR
Next-Gen Anti-virus Software
Backup & Disaster Recovery
Dark Web Monitoring
Phishing Campaign Simulation
DNS Perimeter Security
Multi-Factor Authentication
Email Security
Email Encryption
Security Patching
Compliance Services
Disk Encryption
Vulnerability Scans
Mobile Device Management
Security Awareness Training

Network Services & Support
ACT keeps your infrastructure running smoothly and securely. Whether you have ten computers with basic software, email, and backup needs, or require a complex network with numerous servers and applications, multiple locations, and thousands of data files, we've got you covered!
Security and firewall solutions
IT planning and project management
Backup and disaster recovery solutions
Assistance with regulatory compliance
24/7/365 support and emergency response
Hardware/Software selection, implementation, and training
Desktop, server, and network monitoring, maintenance, and support
Secure, cloud-based document management systems and document scanning
Remote access capabilities, portable device synchronization, and uninterrupted access to critical software and communications
Backup & Disaster Recovery
Disasters are always unexpected and can be catastrophic for a business. Too often, businesses learn at the worst possible moment that their backup and disaster recovery solution has failed. ACT's enterprise-class data facility ensures your data can be quickly redirected and accessible to your team, minimizing downtime. In the case of sabotage, ACT's security specialists evaluate the situation and work to remedy the bigger problem.
Backups as often as every 15 minutes
Off-site cloud synchronization
On-demand restores
Timely alerts to backup problems
Instant virtualization of failed systems
Monitoring of backups
Scheduled disaster recovery testing
Scheduled backup verification
Year-end backup archives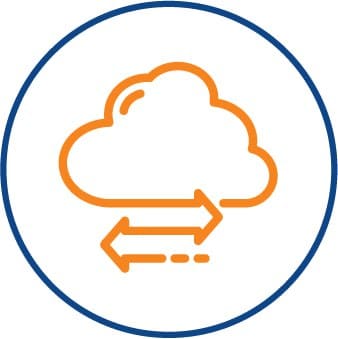 Your network infrastructure, systems, applications, and data are maintained by certified experts and engineers within an enterprise-class data center.  Tailored to your needs, you'll never incur unnecessary expenses.
24/7/365 anywhere, anytime access
Increased employee productivity
Immediate remote IT support
Highly secure and reliable
Automated data backup and archiving
Efficient email hosting
Wireless networking and remote device synchronization
Adapable to new applications and software
Efficient file storage and sharing
Unlimited capacity
No server equipment or space needed on-site
Significantly lower IT expenditures annually
Managed Services are Proven to Have a Positive Impact on Productivity, Profitability, and Security.
Why Accounting Firms Choose ACT as their Technology & security Partner
ACT has been protecting accounting firms for nearly 25 years. We have a deep understanding of your compliance requirements, how networks need to be configured, what data you need to protect, and which software packages you require. Accounting firms appreciate our turn-key solutions, our fast response times, and our professional engineers and technicians.
Would you trade 10 minutes to save thousands of dollars every year?
I know you're busy and I respect your time. 10 minutes is all I need to explain how our turn-key technology and security services can save you money, reduce your downtime, increase productivity, and secure your confidential data. 
Fill out the form above or feel free to call me now at (973) 385-9773.
Managed IT Services | Advanced Security Solutions | Backup & Disaster Recovery | Network Services & Support | Cloud Computing | Co-Managed IT Services |
VOIP Phone Solutions The Trusted Choice for All Technology and Security Needs